New Meyer Sound LEO® Family reinforcement systems are energizing and elevating the worship experience at three churches, two in northern Virginia and one in Washington State
Victory Christian Ministries International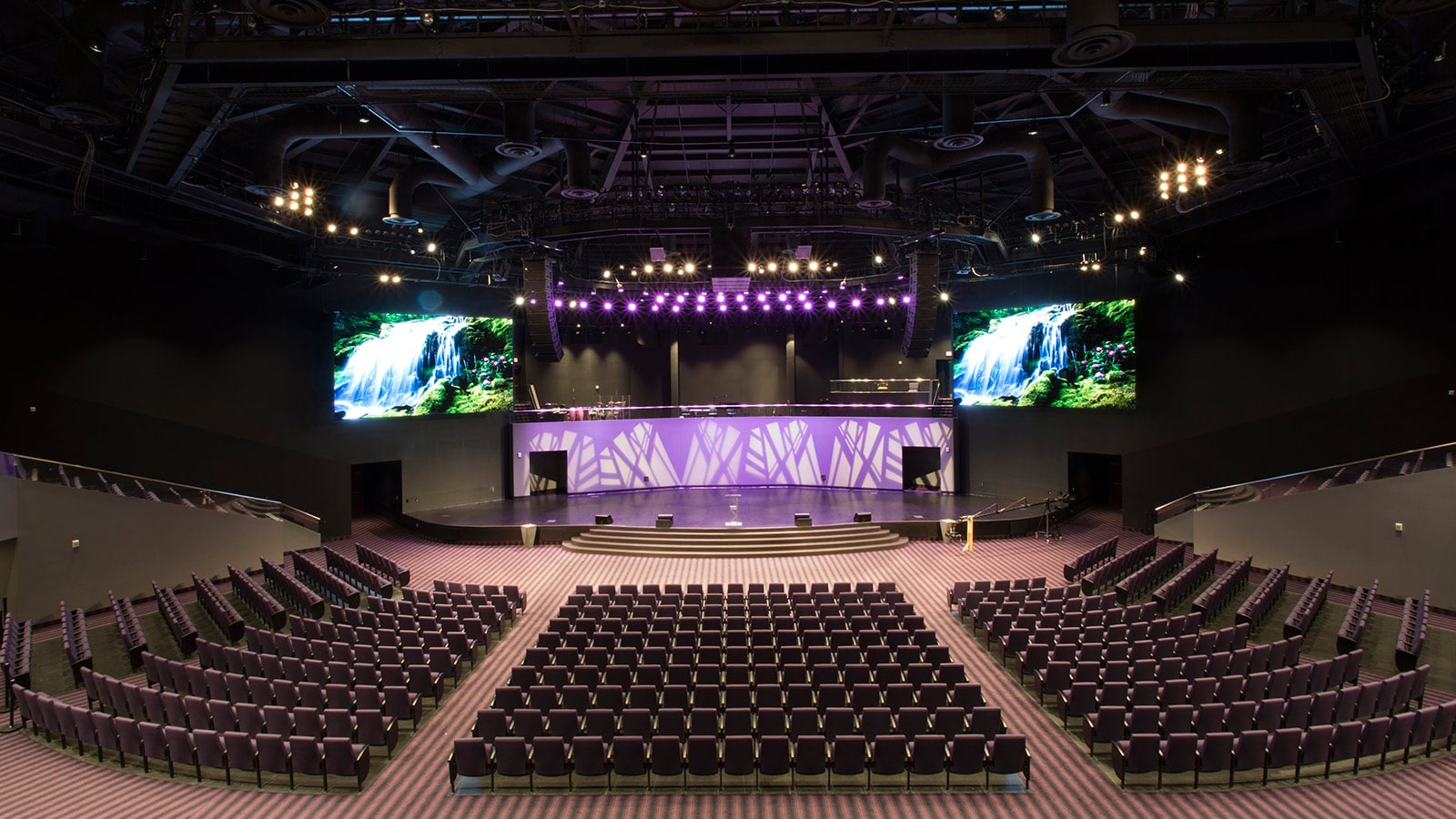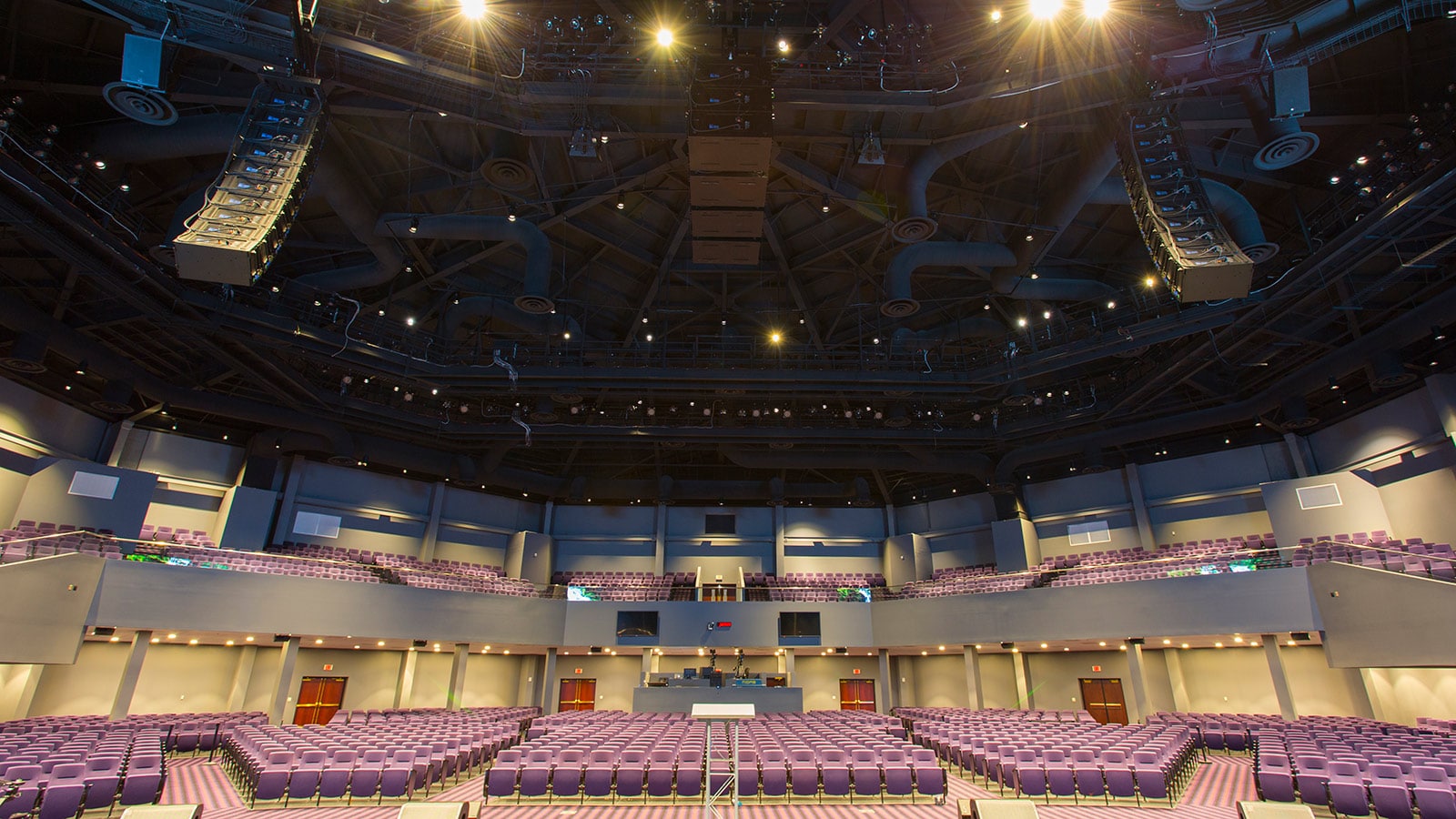 The new Woodbridge, Virginia campus of Victory Christian Ministries International has installed a system anchored by 20 LYON™ line array loudspeakers and bolstered in the bass registers by a directional, end-fire array comprising 12 1100-LFC low frequency control elements.

''We are a non-denominational ministry with a very holistic sound,'' comments Ian Clarke, VCMI's technology administrator and project manager for the new campus. ''We have a variety of artists who bring their ministry here, so we will have anything from laid-back acoustical styles or classical with full orchestra to contemporary urban sounds with powerful low ends. We needed a system that would accommodate that full range without compromises, and the LYON system with the 1100-LFCs certainly does that.''

Rounding out the Meyer Sound complement for the 2,000-seat auditorium are fill and underbalcony delay systems comprising four UPQ-1P, two UPQ-2P, eight UPM-1XP and six UPJ-1XP loudspeakers.

''For clarity and speech intelligibility the LYON system is absolutely wonderful,'' continues Clarke. ''Our pastor has a soft-spoken, conversational style, and this system allows him to engage in intimate, personal conversations with the congregation. And then we can flip over to a bass-heavy sound where the band can rock out without stressing the system. The dynamic capability is just phenomenal.''

The Meyer Sound system was part of a complete package of acoustics, audio, video, production lighting, security and IT solutions designed and specified by the Warrenton, Virginia-based consulting firm Polysonics, with principal Gordon Jacobs heading a team that included Project Manager Steve Boudreau and AV Consultant Josh Wise. Systems integrator was Washington Professional Systems (WPS) of Wheaton, Maryland, with Todd Neil as project manager.

Ebenezer United Methodist Church

About 20 miles further down the Potomac River, Polysonics and WPS teamed up again to design and install a system at Ebenezer United Methodist Church of Stafford, Virginia. For this intimate, hardwood-roofed 500-seat sanctuary the appropriate technology was the LEO Family's newest member, the LINA™ very compact line array loudspeaker.

''In their first proposal, Polysonics had recommended Meyer Sound's MINA line array,'' recalls James Mills, the church's director of technology. ''But when the design went out to bid, Meyer released the LINA, which was a newer and better version and also less expensive. So it was a win-win to go with this new product.''

The center array of six LINA loudspeakers is supplemented by UPQ-2, UP-4XP and UPJ-1P loudspeakers for, respectively, side, front and stage fill duties. Deep bass is provided by a pair of flown 900-LFC low frequency control elements.

''The performance of the LINA system has been fantastic,'' states Mills. "The first time we heard it during testing, we were immediately struck by the difference in clarity compared to what we had before. We are now hearing things distinctly in the mix that before we knew should be there but were lost in the mud. It's an extremely enjoyable experience, and we've had a great response from the congregation.''

Word of Grace Bible Church

Across the continent in Washington State, Word of Grace Bible Church in Battle Ground is benefiting from another new LEO Family system, in this case based around dual main hangs of nine-each LINA line array loudspeakers. The companion subwoofers were again 900-LFC elements, with two per side here, while a pair of UPA-1P loudspeakers supplies infill for the front center rows. The system was designed and installed by BNY Productions of Sioux City, Iowa under the direction of Bill Kristijanto.

Word of Grace principally serves the large, multi-generational Russian immigrant community that has settled in the Northwest, with a traditional weekly Russian language service as well as a contemporary service in English. Music is a core element of all worship, with more than 350 members participating in the contemporary music ensembles or the traditional Russian choir, which is occasionally supported by full orchestra.

''When it came time to replace the old system, we knew that Meyer Sound would be among our ideal solutions,'' says Jimmy Mikailenko, the church's volunteer technical director. ''Several people on our team had mixed on Meyer systems and we all had enjoyed the systems we had heard elsewhere.''

Mikailenko was impressed by a LINA demo in nearby Portland, and he was pleasantly surprised when he conferred later with integrator Kristijanto of BNY. ''After that demo, we kept thinking of that LINA sound, and how we longed to hear it in our own space. And we were soon thrilled when Bill told us how cost effective it would be.''

The system's performance has exceeded the high expectations, according to Mikailenko. ''We have excellent coverage throughout the space, and we can do a lot more with less EQ. With very little effort we can get that sense of intimacy from our pastor's mic, as if he were standing right in front of you, speaking without amplification. The low end is tight and controlled; it doesn't boom or overpower. Overall, the congregation is very impressed. People tell me they are hearing things they could not hear before, and they are more engaged in worship.''