June 3, 2013
Cypress, CA, June 3, 2013 - FOR-A Corporation of America announces plans to display an array of its video and audio solutions at this week's Telemundo ? Expo Cine Video Television Show, which takes place June 4-7 at the Mexico World Trade Center in Mexico City. Exhibiting within the Excellence in Communications and Technology booth (C-4), FOR-A will showcase a range of its products, including camera, multi viewer, signal processor, video switcher and frame rate converter solutions.

"The Latin American market is a very important region to us," said Mario Rodriguez, FOR-A's Latin American Sales Manager. "FOR-A makes it a priority to take advantage of every opportunity available to continue our strong presence in the area. Telemundo is a prestigious event for broadcasters in Latin America and a great chance for us to showcase our products to the community with our partner, Excellence in Communications and Technology."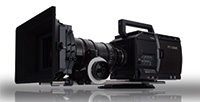 FOR-A will display its FT-ONE 4K variable frame rate camera. Employing FOR-A's CMOS color sensor, FT1-CMOS, the FT-ONE has the ability to record and play back full 4K at up to 900 frames per second. FOR-A will also showcase the FLOVEL FZ-B1 ultra high sensitivity HD digital camera. Featuring an unprecedented low-light sensitivity of only 0.01 lux, the unit is the latest addition to FLOVEL's extensive line of high-end HD specialty cameras.

Also on display will be the new FA-1010 multi-channel signal processor. With 10 video inputs and outputs, the award-winning unit offers extreme connectivity. The FA-1010 features multi-channel routing between sources as well as effective video and audio signal processing for line, relay, reporting, production, editing and delivery applications. FOR-A's FA-9520 multi purpose signal processor will also be demoed at the expo.

FOR-A's HVS-390HS HD/SD video switcher will also be exhibited at the booth. The compact, cost-effective HVS-390HS includes 16 HD/SD-SDI inputs and eight outputs (expandable to 24 inputs and 13 outputs), with frame synchronizers for all inputs.

Additionally, FOR-A's modular UFM-30FRC frame rate converter will also be shown. Equipped with up, down, and cross-converter functions as standard features, the unit offer motion compensation processing and linear conversion modes and can perform wide-ranging format conversion. Another product in FOR-A's UFM modular series that can be mounted on a UFM frame and will be displayed at the expo is the UFM-30DCC, an HD/SD digital color corrector.

The MV-1620HS HD/SD/analog mixed high-resolution multi viewer, IVS-710HS HD/SD video stabilizer, VTW-330HS HD/SD character generator, and the MBP-100SX MXF clip server are among the other products that will be showcased by FOR-A at Telemundo.