Cypress, CA, August 4, 2014 – FOR-A Corporation of America announces it participation at the upcoming SET Expo 2014, taking place at the Expo Center Norte in São Paulo, Brazil from August 25-27. FOR-A will exhibit a variety of its popular solutions in booth E17, including its full 4K variable frame rate camera, video switchers, signal processors and multi viewers.

Among the highlights of FOR-A's booth will be the highly regarded FT-ONE 4K super slow motion camera. Capable of recording up to 900 frames per second, the FT-ONE will be demonstrated alongside FOR-A's ZE-ONE 4K extraction system. The ZE-ONE allows FT-ONE operators to zoom in on and extract specified HD scenes at any size from 4K sources.

FOR-A will also showcase a number of its popular video switchers, including the HVS-XT portable switcher series. Both the HVS-XT100, which comes with a separate main unit and control panel, and the HVS-XT110, which features a compact, integrated design, will be on display. FOR-A's HVS-390HS video production switcher will also be shown. Offering unique capabilities that allow operators to deploy any aux bus transition with cuts, mixes, or wipes, and display a keyer complete with DVE functions, the cost-efficient switcher is widely used by broadcasters, houses of worship, education facilities and corporate video producers.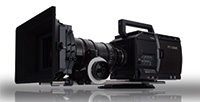 FOR-A FT-ONE 4K Super Slo Motion Camera
A variety of FOR-A's signal processors will also be on display, including the award-winning FA-1010, which includes 10 video inputs and outputs and offers multi-channel routing between sources and effective video and audio signal processing for line, relay, reporting, production, editing and delivery applications. The FA-9520 and FA-9500 multi purpose signal processors will also be demoed at the show.

Other equipment to be shown by FOR-A includes the new MV-1620HSA multi viewer, a compact (1RU) but full-featured unit that includes the option to cascade it with other units to display up to 64 sources simultaneously.

"This region is so important to FOR-A, and the SET Expo 2014 is a premier Latin American industry event," said Mario Rodriguez, FOR-A's Latin American Sales Manager. "We look forward to exhibiting at this year's show and displaying some of our newest and most in-demand solutions. A product I'm particularly looking forward to showcasing is our award-winning FA-1010 signal processor, which has proven itself to be a highly popular solution in the region."