Beijing, China – 18 July 2008
The IBC International Broadcast Center for the Olympics in Beijing has standardized on the 7420 logo inserter from Ensemble Designs. The Avenue 7420 is used for branding feeds that are distributed from the IBC. Additionally, there are 40 unique venues, all of which have Ensemble Designs' Avenue 5400 and 7405 Sync pulse and test signal generators that are providing basic sync and reference for video and audio paths.
The IBC is the transmission and distribution center for an enormous amount of signals. Signals from every Olympics venue come in on fiber for synchronization and routing. The IBC's transmission and distribution facility acts as a switching center for rights holders. A selection of feeds are also distributed to the uplink farm and back to reporters. Feeds are branded with Ensemble Designs' logo inserters prior to distribution to correspondents.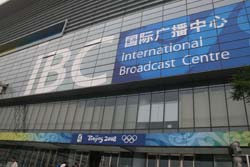 The Olympics IBC at the New Beijing Convention Center
A special in-house TV distribution network with over 40 channels is provided to correspondents and reporters. Across the course of the day a wide range of different sources are provided on different channels. A reporter in the main correspondent center could use this system to watch various channels. He might watch time trials for swimming on one channel, view crowd shots on another channel, and simultaneously view sailing on a third channel. This system allows reporters to cover many events without having to physically be in several places at once.
The IBC receives full-bandwidth uncompressed HD feeds on fiber from the majority of venues as they are within fiber distance of the IBC. For distant venues such as those hosting the equestrian and sailing events, signals are MPEG compressed at a high bit rate and then delivered back to the IBC.
Signals are switched according to published program schedule. All signals are fed into a matrix of Ensemble Designs' 7420s for individual branding of each channel. Some of the 7420 outputs are down converted into CATV system. Each 7420 module can output two independent pictures, which makes this particular logo inserter quite cost effective for the Olympics application. The IBC requested a customer dual-channel mode from Ensemble Designs for their installation.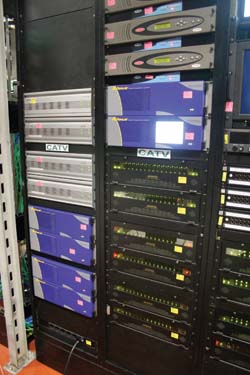 Equipment rack with Ensemble Designs 7420 branding logo inserters
in the Olympics IBC CDT transmission and distribution machine room
The 7420 logo inserter can be used with HD and SD video signals and has 2 linear keyers. The on-board Secure Digital card provides the user a simple way of transferring logos from computer to module for keying. Animations, sound clips and stills are supported.
The IBC is housed in the New Beijing Convention Center, which has been modified to serve the Olympics. Buildings, offices, studio and control rooms have been built inside the convention center, some permanent and some temporary. Where needed, surface mounted conduit has been added to the facility. Temporary standby generation has been brought in to meet the extensive power requirements.
All 40 sports venues use the Avenue 5400 and 7405 Sync pulse generators and test signal generators for the video and audio paths. In order to make the system simpler to organize and maintain, trucks all originate in HD and other signals are distributed as needed. There is a multilateral path that is for "rights only" broadcasters. This consists of a redundant path with two fibers running in two different directions. The Avenue 5400 is used to feed pathological and colour bars to the path and to ID each venue (e.g. "sailing 1".) The Olympics staff engineers asked Ensemble Designs to add a moving element to the test signals to help alert if a path is frozen. The Ensemble equipment is also used to perform critical measurements of the transport paths.
IBC staff arrived in Beijing in February and will be on-site through October. After a hiatus the IBC staff will go on to Vancouver for the next Olympics implementation.
Planning for Vancouver is already in consideration and the IBC staff is planning to use a similar signal flow there. A clever, portable rack system allows the IBC staff to easily pull out the gear and ship it back to Spain and then on to Vancouver.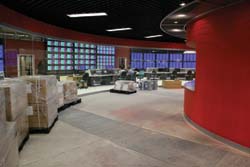 The Olympics IBC CDT transmission and distribution area
Press Contact:
Cindy Zuelsdorf
Ensemble Designs
www.ensembledesigns.com
+1 530.478.8328